Known as Fishbone, Ishiwaka or Cause and Effect Diagram, this Quality tool is usually used to identify and/or prevent potential problems or defects. By joining together brainstorming and mind mapping techniques, this methodology makes you consider all the possible causes of a problem.
Useful situations
The fishbone diagram can be useful when you:
– Have a serious problem and need to identify the cause(s);
– Need to identify and solve bottlenecks in your process;
– Must change a process, because it's not working.
How to use it
1. Identify the problem, writing down the exact situation with detail: What the problem is, who is involved, when/where is occurring.
2. Identify the factors that can be the root of the problem. People, equipment, lack of planning, materials, everything that you can think of that can have an impact on the situation.
3. Identify the causes, considering each factor mentioned in the last step. For each factor, identify the possible causes.
4. Analyze your Fishbone Diagram, named as fishbone because that's probably what it looks like.
Depending on the complexity and importance of the problem, you can now investigate the most likely causes further. This may involve setting up investigations, carrying out surveys, and so on. These will be designed to test which of these possible causes is actually contributing to the problem.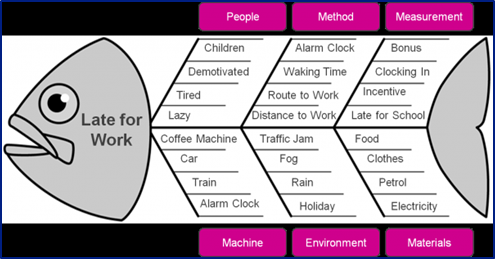 There are more useful tools for Quality Management. Read about PDCA here.
If you are thinking about digitally managing your Quality System and Politics, sign up now and try for free our Quality Features.